BROmance produces a high-quality skincare line for men, including an organic cleanser and moisturizer. 
We are proud of being 100% made and produced in Toronto (Go Raptors!), with all of our products being sourced locally from within the GTA. 
When we created BROmance, we built it with travel in mind. Every product we make is either 100mls or less, to ensure we meet TSA regulations.
We are proud that our products are sourced and manufactured in Canada--the greatest country in the world. We are ready to show the whole world the creativity and passion that is housed right here in Toronto, and throughout our great nation. The same passion us Canadians have for our hockey, our beer, and our great outdoors, is the same passion we put into creating and developing BROmance.
Technology has developed to the point where skincare companies have viable alternatives to testing their products on animals. Sadly, some companies still choose to do this. Not BROmance. We are extremely proud to be cruelty free, and will always remain that way.
Get ready to FACE THE DAY with the confidence of knowing your skin looks as great as you feel. With its unique blend of coconut and sugar beets, this twice-daily cleanser will remove all of the bad, leaving you at your very best. Suitable for all skin types, the instructions are simple: apply, rinse, then go for it!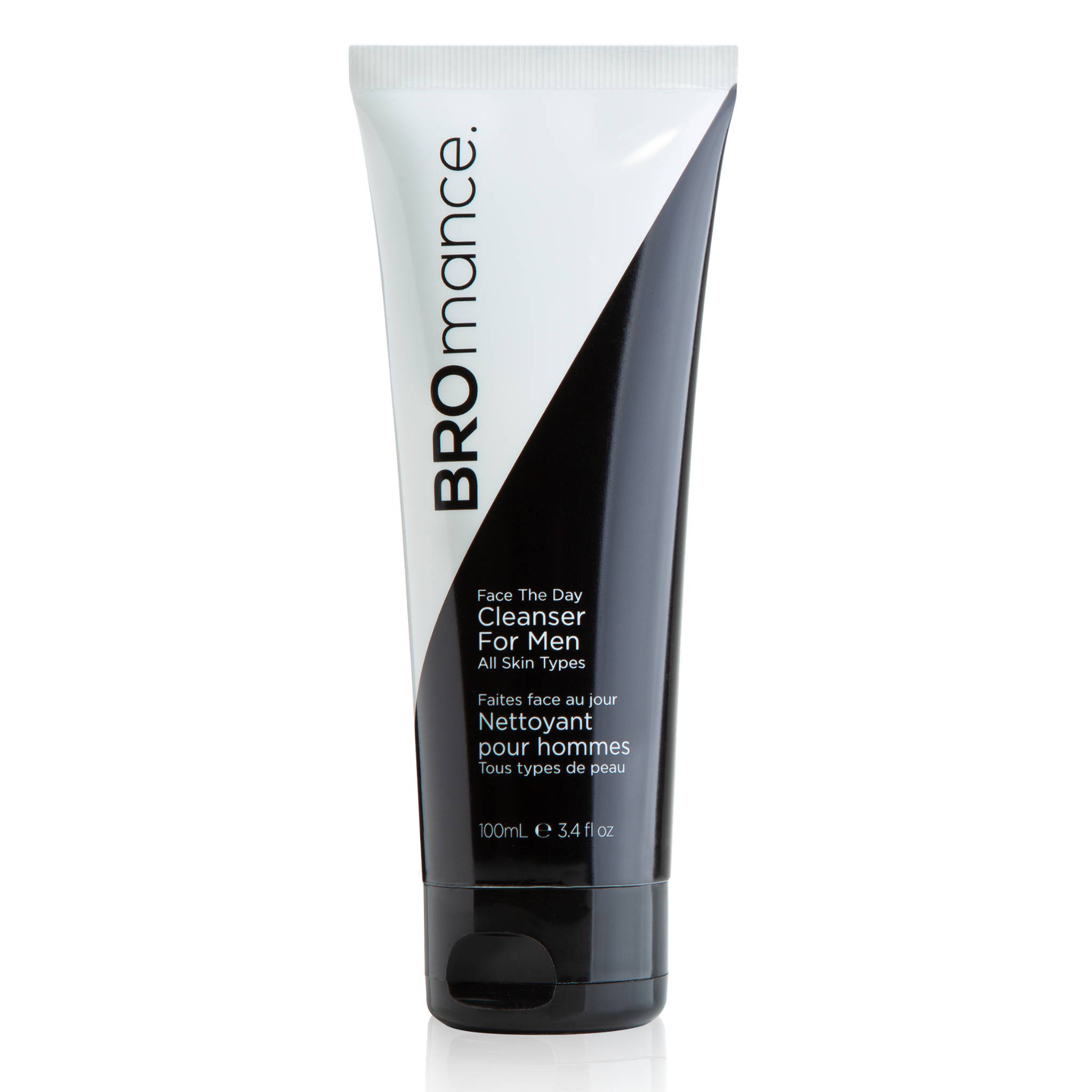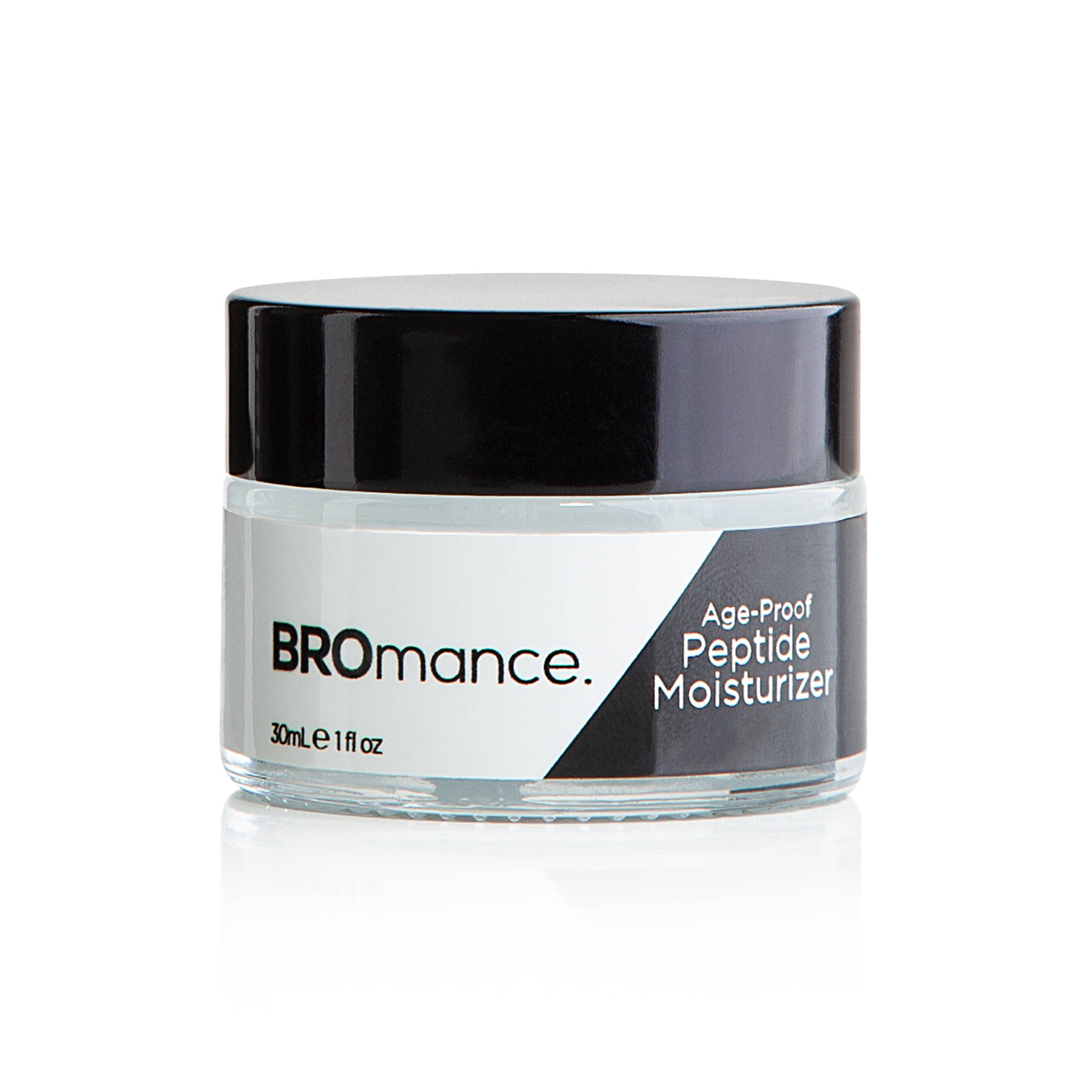 Showing bros that age is just a number, Age-Proof Peptide Complex is the light matte, lotion formulation that keeps you looking young...and having fun.
Age-Proof moisturizes via its unique blend of hyaluronic acid, jojoba oil, and more than half a dozen unique botanical actives. So add a little pep to your step, put a little peptide on your skin, and enjoy the youthful glow that only Age-Proof can provide!
Throughout the annals of time, there have been some formidable duos.
Think of Kobe and Shaq on the Lakers. The two dominated the NBA and led the Lakers to a three-peat at the turn of the millenium.
Or Gretzky and Messier. Two of the greatest hockey players of all time, who changed the way the game was played, and led the Edmonton Oilers to four Stanley Cups in five years in the 1980s.
Great duos aren't confined to sports either. We see them in films as well. Think Pesci and De Niro. Their chemistry in films together is so strong that even now, in 2020, they're still being sought after for new, blockbuster movies like the Irishman.
Well BROmance has its own duo--the Tag Team. Together, Face the Day and AgeProof come together to deliver the ultimate one-two punch in men's skincare. Face the Day jabs in with the cleanser, and AgeProof delivers one heck of a right hook of moisturizer. Not only will the combined use of these products help deliver fantastic results to your skin, it will also help your wallet as well by saving 15%.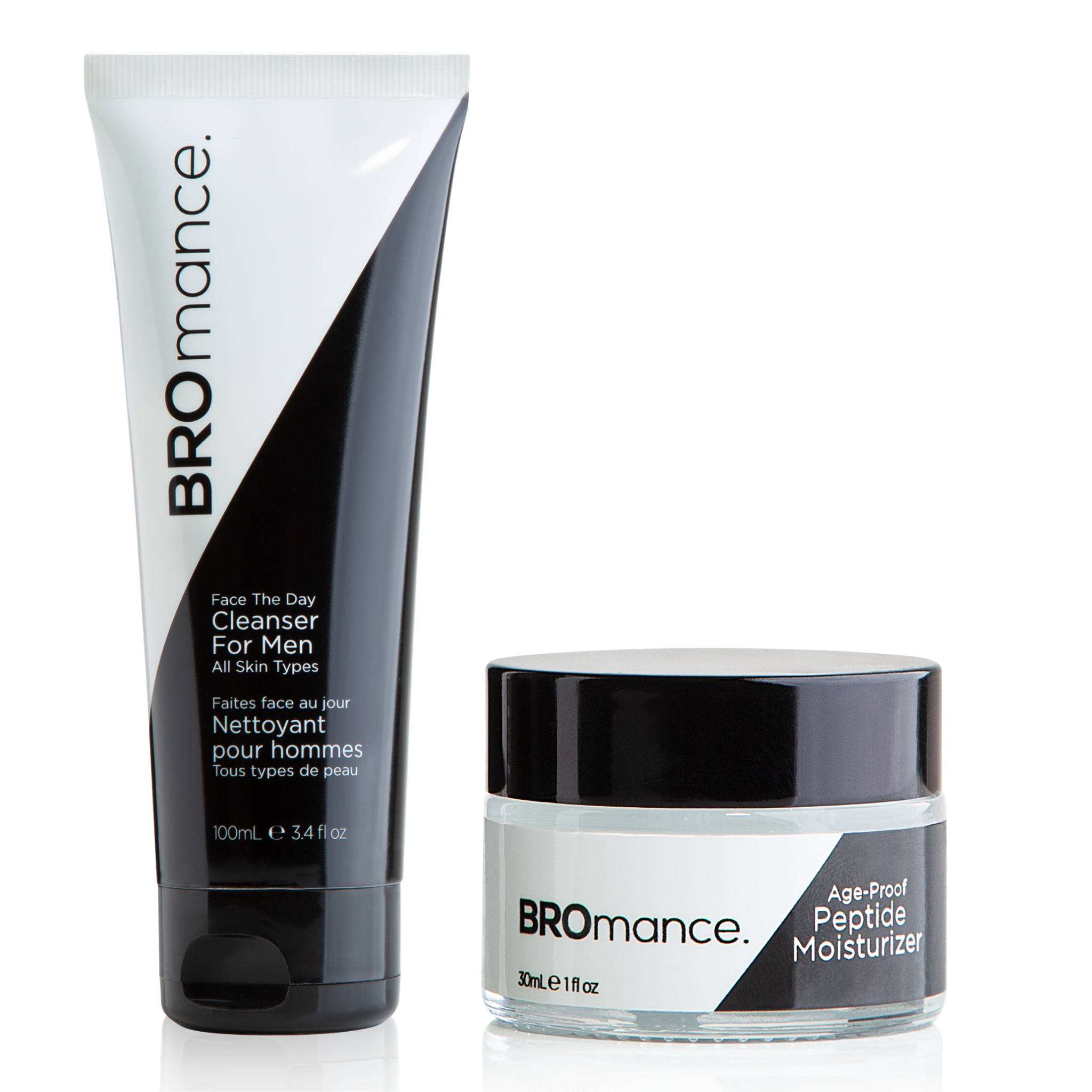 I travel a lot for work. Like a lot, a lot. It's rare for me to have a week where I don't fly out of province, and, honestly, most weeks, I travel international as well. In between travelling, I am preparing for all the work that needs to be done when I get to my destination. There are concepts I need to read up on, meetings I have to prepare for, and presentations I need to have ready. I don't have a lot of time for packing. Most times I just take a carry-on.
That's why it's really important to me that whatever I do take, is allowed to come on board with me. BROmance meets that need. Their products are carry-on ready so I never have to worry about them being tossed by airport security. It makes things a lot easier for me knowing that I can keep my skincare routine going strong no matter where I am in the world.
Johnathan Mcdonald
2 APR 2019
No doubt BROmance helped my skin look better than ever, but what was also amazing was just how much this healthy looking skin increased my confidence.
I have always been somewhat of a shy guy. I struggled talking to girls, and making new friends. In retrospect, this struggle may have been owing to the fact that instead of concentrating on the conversation, I was worried about my physical appearance.
Now I no longer have that worry. I find myself more relaxed and at ease in social situations. Overall I am happier with how I look on the outside, and how I feel on the inside.
Aaron Short
2 APR 2019
Before using BROmance, I was skeptical. I didn't think there was anything out there that could help my skin. I had tried skincare products before, and none of them seemed to be working.
Not only did BROmance improve my skin, it told me why it was. I appreciated learning about skincare instead of blindly trying a product and hoping for the best. But that's part of their philosophy: they care about educating the consumer as much as they do helping them. Now my skin looks better than ever, and I feel more knowledgeable than ever about what it takes to maintain healthy looking skin.
Kelsey Marks
2 APR 2019